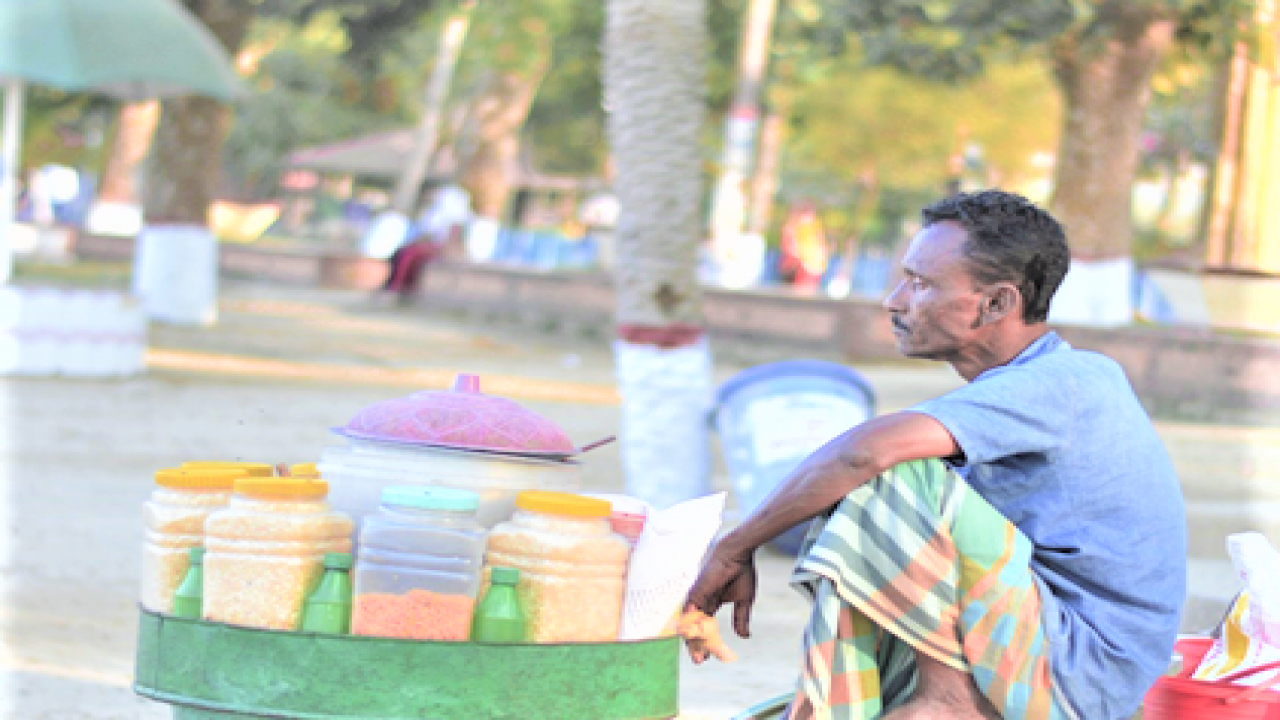 COVID-19: A Great Challenge to the Economic Sector of Bangladesh
Coronavirus infection has been considered as a Public Health Emergency of International Concern and recognized as a pandemic by the World Health Organization on 11 March 2020. The virus is transmitted by close contact that is defined as 1 metre (3 feet) by WHO and 2 metres (6 feet) by Centre for Disease Control and Prevention sneezing, coughing even talking People may also be affected by this virus by touching a contaminated surface. The preventive measure like lockdown affecting major economies such as G7 countries who jointly share 65% of the manufacturing of the world, 60% of world's demand and supply (GDP), and 41% of world exports have been heavily affected by these pandemic and other countries will follow these. Baldwin and di Mauro (2020) termed such outcomes as 'macroeconomic flu'- a temporary negative demand and supply shock - causing fall of output temporarily, followed by recovery quickly and possibility of full catch-up on the shortfall. This paper attempts to identify the current and future basic economic complications of the corona virus pandemic in Bangladesh.
There are three prominent sectors of the economy of Bangladesh that are Agriculture, Industry and service sectors which contributed 18%, 29% and 53% to the GDP of the country respectively are adversely affected by the corona virus pandemic.
Development Sector: It was studied that the pandemic could affect international relationships by affecting the existing and the upcoming economic programs under government to government (G2G) cooperation particularly between China and other economies (Barua 2020). Due to the outbreaks, China backed public projects under investment or aid frameworks have come to halt - as materials and project staff cannot travel back and forth resulting delays or cancellation of G2G aid or investment programs as China and their partner countries. Currently, China has about 7000 projects underway in 69 countries under the G2G cooperation framework, which could have a big hitdue to this pandemic (Whalen and Bhattarai 2020). In Bangladesh, Major undertakings like Padma Bridge, Padma Rail Link, Karnaphuli Road Tunnel and the Greater Dhaka Sustainable Urban Transport Project include monetary and specialized contribution from China, the two of which are required to be antagonistically influenced (Wilson 2020).
Agriculture Sector: In Bangladesh, dairy farming currently produces 9.9 million tones of milk annually, which is 70% of the total national demand. But about 12 to 15 million liters of milk have remained unsold for lockdown. The country's dairy farmers are in deep crisis because they are forced to sell milk at Tk less than 50 a liters somewhere in the country while in other areas they cannot sell at all (Roy 2020). On other hand Bangladesh's fares make up over 70% of the crabs in the Chinese market. China quit bringing in crabs this year. Likewise, Bangladesh Poultry Industries Central Council (BPICC) said that the offer of poultry chicken and eggs has dropped in the market because of shutdown which has caused destruction on the poultry business. BPICC as of now anticipated their misfortune will be between Tk1, 150 crore and Tk 1,650 respectively in poultry chicken and eggs. In the case of vegetables it is assumed that due to the outbreak of Covid-19 Bangladesh will lose $20 million export earnings (TBSR 2020). To increase the supply of agricultural commodities such as fertilizers, fuel oils, pesticides, herbs and other seeds; to give advance instructions to the farmers about the crops to be harvested next season; reduce the cost of irrigation and agricultural equipment; Curing disease of crops; The farmers should be particularly mindful of the fair value of their produce viz. grain, vegetables, fish, meat, eggs, milk; keeping a watchful eye on raising subsidies in agriculture.
Industry and Service Sector: The Covid-19 pandemic has a profound impact on the supply chain and demand for the apparel sector because of challenges of raw material source and cancelled orders. According to the country's commerce minister―Morethan $2.6 billion worth of orders in Bangladesh's garment sector has been withdrawn and new cancellations are coming up. Choudhury (2020) revealed that Bangladesh piece of clothing manufacturing plants are probably going to battle to pay some 4.1 million laborers in the area, who are low workers. BGMEA's site appeared about $2.67 billion worth of requests — or 828 million bits of attire in 966 manufacturing plants — have just been dropped or suspended, and it influences around 1.96 million specialists so far. On the other hand, global production of Cotton is largely dominated by India, China, the USA, Pakistan, and Brazil. As demand of cotton in China is declined for their longtime lockdown due to corona virus pandemic that resulting demand- supply mismatch in international market. Along with this, decrease in yarn exports for India to China will mean an even greater excess supply of yarn and lower prices in the international market.
Cotton yarn lost 2-3 percent in the course of the most recent one month, while engineered yarn declined by 4-5 percent during the previous one month, following a fall in unrefined costs
Similarly, the pharmaceutical industry is affected as Active Pharmaceutical Ingredients (APIs), which is raw materials for the pharmaceutical sector, is import dependent. About 95% of all APIs worth Tk 5,000 crore is imported annually from abroad, the largest quantity from China, followed by South Korea and India. Since it is an import dependent industry so it will face hard times. On the other hand, the COVID-19 outbreak is expected to lead to higher demand of sanitizing chemicals, and other medications in the short-term to seek prevention and basic treatment measures (Nazrul 2020).
As pandemic just spread in Bangladesh the end of this pandemic is uncertain. In this situation recovery from disease is the main concern with considering the economic impact. Last but not least, the mentioned problems in this study should be solved to maintain the liquidity in the economic sector and regain the probability of becoming the rising star in world economics.
References:
Baldwin, R.E. and di Mauro, W., 2020. Mitigating the COVID economic crisis (No. BOOK). Centre for Economic Policy Research, London. 219 p.
Barua, S., 2020. Understanding Coronanomics: The economic implications of the coronavirus (COVID-19) pandemic. SSRN Electronic Journal https://doi org/10/ggq92n.
Begum, M., Farid, M.S., Barua, S. and Alam, M.J., 2020. COVID-19 and Bangladesh: Socio-Economic Analysis Towards the Future Correspondence.
Chowdhury,S.R. 2020. The coronavirus outbreak is crushing Bangladesh's garment export with growing order cancellations, viewed 27 March 2020, ˂https://www.msn.com/en-xl/asia/bangladesh/the-coronavirus-outbreak-is-crushing-bangladesh-s-garment-export-with-growingorder-cancellations/ar-BB11MMBw>.
Nazrul, S. 2020. Bangladesh Pharmaceutical Sector Wading through the Pandemic, Lightcastle analytics wing, viewed 30 March 2020, ˂https://www.lightcastlebd.com/insights/2020/03/30/bangladesh-pharmaceutical-sector-wading-through-the-pandemic>.
Roy, R., 2020. Mitigating Covid-19 impacts on food and agriculture, viewed 03 April 2020, ˂https. thefinancialexpress. com. bd/views/mitigating-covid-19-impacts-on-foodand-agriculture-1585932264>.
TBSR. Poultry sector stares at over Tk 1,150 crore losses, viewed 01 April 2020, ˂https://tbsnews.net/tags/poultry-sector>.
Whalen, J. and Bhattarai, A., 2020. US companies face crucial test over China's factory shutdown. Washington Post. Accessed, 31.
Wilson, A., 2020. Coronavirus travel updates: which countries have restrictions and FCO warnings in place. The Guardian. Accessed, 31.